Dealers Den Registration Is Closed
Dealer's Den
If you have any questions, please contact our Dealers Den at dealers@furlandia.org.
Hours
Thursday
6pm-10pm (Setup)
Friday
9am - 11am (Setup)
11am - 6pm
Note: These hours are pending and may change closer to the convention.
Dealers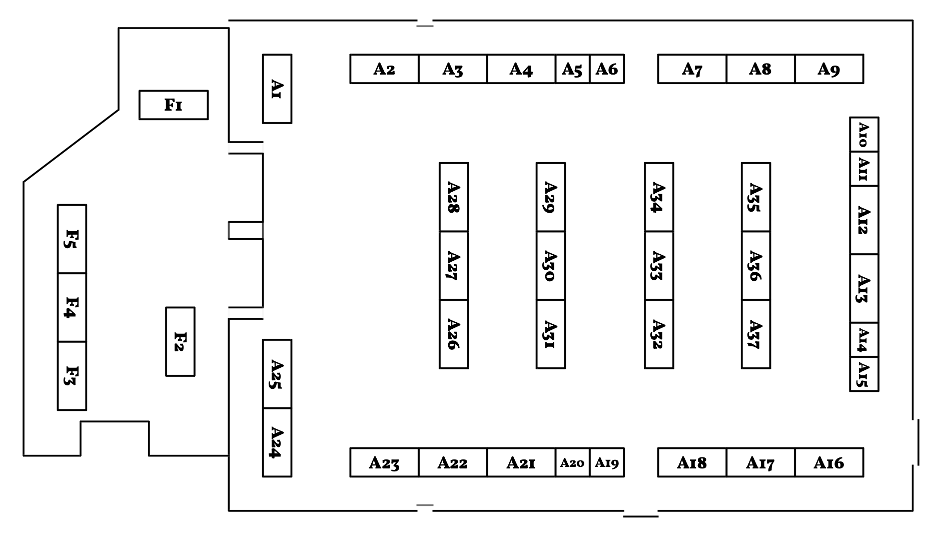 Dealer Membership
There are two variations of Dealer Membership; one that includes one full table, the other includes one half-table. Sponsor and Patron upgrades are also available. These upgrades come with the things listed below, as well as what is listed on the Registration page.
Dealer Membership with full table - $70
One Attending Membership
One Dealer table 6 feet in length by 30 inches wide
May reserve a second table for an additional $40 (see 'Things to Note' further down)
Dealer Membership with half-table - $55
One Attending Membership
One half the space of a Dealer table, 3 feet in length by 30 inches wide
May upgrade to a full table for the difference; $15 (see 'Things to Note' further down)
Things To Note
Half-tables are available in limited quantity. If this is all you want, snag one quick!
To Select a second table, add it at the bottom of the form after your first table has been added.
Table upgrades and extra tables do not come with additional memberships! They may only be reserved as availability allows. Only whole tables will be offered as extras. Dealers with half-tables must upgrade to a whole table before they can reserve a second. In other words; you can get a half, whole, or two tables. Additional table space should be requested prior to the convention.
Requests for two tables depend entirely on overall demand and are case by case. If your request for a second table can't be fulfilled due to space, we will notify you.
If a dealer brings someone to assist them, that individual must purchase an Attending Membership or higher to be allowed entry.
Please remember if you have any special requests to include them in your application; such as electricity, wall space, an extra table, a special location or to be next to another dealer. We will do our best to accommodate you.
No refunds will be given on any type of membership or on table fees in whole or part.
Rules
Anything on open display (visible to people near your table) must be PG-13 rated. Explicit materials must be covered and labeled (art in a binder marked as "Adult 18+" for example), and censored (i.e. strategically placed stickers on the page sleeve covering the sensitive bits). Materials may be shown to specific people provided you have checked their badge to ensure they are of legal age. It's explicit if;
It contains exposed genitalia or representations of genitalia.
It depicts a sexual act.
It depicts realistic violence where the victim is shown to be seriously injured.
It depicts any other content that, according to State law, makes it unsuitable for younger viewers.
Items that are considered completely unacceptable include items where the possession of, sale of, or the crossing of state boundaries with constitutes a criminal act. These items CANNOT be sold or displayed, period.
Dealers and Money at the Convention.
We highly recommend that if the hotel you are staying at has Safe Deposit boxes dealers use them to store their cash, alternatively, if the hotel has a room safe, you use that. Furlandia makes no claims of the security of the Dealers Room after hours. While we have never had a problem and do take reasonable precautions about room security, nothing is perfect.